Welcome to Meden College
"I am delighted to welcome you to Meden College — a place where academic excellence and success for all our students drives everything we do. A place where support is second to none and where we encourage you to widen your horizons and your ambitions.

We have high expectations of ourselves and our students and as a whole community we take pride in what we do on a daily basis.

You will meet your full potential if you join Meden College and you will be guided and supported every step of the way so that you leave us fully prepared for the next step, whether that be in higher education, further training or employment.

I look forward to welcoming you to our community."

Holly Smith BSc, PGCE, MAHead of College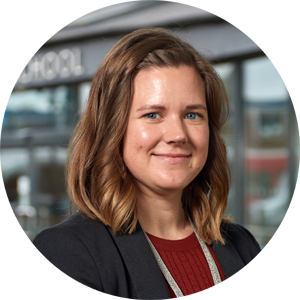 Professionalism
As a 21st century educator, we realise that Post 16 learning does not stop at the classroom door, or end when the exam is over. We aim to equip our students with all of the skills you will need to succeed throughout your lives.
Responsibility
We expect that you will take responsibility for your own education and through this develop a love of learning which will extend beyond your time with us. This quality will be key for you as you take your next steps into the world of work or further study.
Independence
At Meden, we know that the most successful Post 16 students are those whose education continues when the bell rings for the end of the lesson. We invest in high quality academic monitoring for all our students in order to make the transition from Key Stage 4 to Key Stage 5 as successful as possible.
Determination
Our students are set challenging and aspirational targets as we believe that the education we provide is second to none within the north Nottinghamshire area. We want our students to face challenges with resilience and learn lessons you will take with you at 18.
Enterprise
The world our students will enter at 18 or 21 will look entirely unlike anything today, so it is key that you can act on your feet, adapt and think outside the box. We want your time at Meden to equip you with a wide portfolio of skills so that you can tackle everything life throws at you.
Course Guide
Click a subject below for full course details.
Art and Design
Biology
Business
Chemistry
Computer Science
Criminology
English Literature
EPQ
Geography
History
Mathematics
Media
Physical Education
Physics
Psychology
Sociology
Entry Requirements
General entry requirements to the college are five grade 5–9 grades (including English and Maths GCSE). There are also subject-specific entry requirements for each subject that need to be met.
Apply for a Place
Apply Online
The application process for September 2024 entry is open: please fill out the form below to apply.
Please complete all the fields on the application form and ensure you enter a valid e-mail address so that we can contact you.
Please read through this form carefully before you start to complete it. You will be required to complete your personal details, information about your qualifications and your provisional course choices.